This post was first published in July 2019.
This post follows up from an earlier post at http://www.unz.com/isteve/the-worlds-most-important-graph/ on the "world's most important graph". This topic, suppressed by the mainstream media, should be top of the discussion list at every school, college and university in every White country.
In 1995 the population of Africa overtook that of Europe. There are comparatively few Whites in Africa. There are millions of Africans and other non-whites in Europe. The graph predicts that the population of Africa will top 4 billion before the end of this century, whereas Europe's population will remain steady at around half a billion (presumably including the increasing numbers of non-whites and mulattoes living there).
Of course it won't really be like that. Around half of all Africans intend to travel to Europe to live in one of our Welfare States where they don't have to work and the (White man's) state will look after them. Unless we stop them…
The following post was written by Gregory Hood, of American Renaissance, and published on June 27th 2019. The URL of the original article is given at the foot of the page.
Thomas Jefferson called Missouri's petition for statehood a "fire bell in the night" portending war. For me, the fire bell is the first large all-African group of immigrants caught crossing the southern border. They knew the legal tricks to pull to be released into the country. This portends doom.
My foreboding comes from what Steve Sailer calls "the world's most important graph".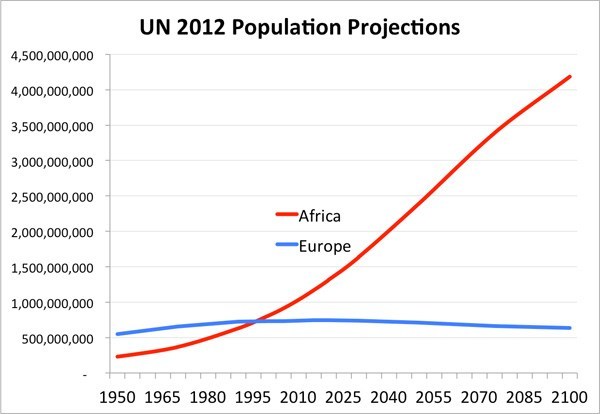 If current projections hold, the population of sub-Saharan Africa will increase during this century to more than 4 billion people. This would be an 18-fold increase in 150 years.
A 2017 Pew Research poll asked Africans if they wanted to emigrate. Three-quarters of people in Ghana, almost as many in Nigeria, and more than half in South Africa, black Africa's most developed economy, said yes.
Since 2010, sub-Saharan African countries have accounted for eight of the 10 fastest growing migrant populations. About 25 million black migrants lived outside their own countries in 2017. Blacks will swallow up Europe and North America if we do not keep them out.
Bill Gates is aware of this population trend. "By the end of the century, almost half the young people in the world will be in sub-Saharan Africa," he said in a recent video. The Gates Foundation already spends half its money on Africa, splashing out for medicine, education, and economic development.
What does Mr. Gates expect in return?
These young people can be a huge asset if they're healthy and educated. They drive economic growth, they drive innovation. So it's a challenge to the world to take advantage of investing in youth. Improving their health and education really pays off.
How can Mr. Gates believe this? He is not completely immune to the facts. "To put it bluntly, decades of progress in the fight against poverty and disease may be on the verge of stalling," Mr. Gates noted in 2018. "Africa must almost quadruple its agricultural productivity to feed itself," he said in another interview. "That's very daunting."
Mr. Gates has repeatedly called for more birth control in Africa but also funds programs that increase population and decrease mortality. His efforts create an eternally increasing African population that needs ever-more Western aid and technology to stay alive. This burgeoning population also floods into the West, where Africans become domestic dependents. This reduces the West's capacity to nursemaid the Dark Continent.
Mr. Gates seems to sense all this, but is paralyzed by political correctness. Why call desperately for birth control if African youngsters are going to bring economic growth?
Perhaps it's because Mr. Gates has heard something about IQ. "The average IQ in sub-Saharan Africa is about 82," he said in 2013. However, he declared that it has "nothing to do with genetics or race or anything like that – that's disease and that's what disease does to you . . . "
Mr. Gates prizes intelligence. According to a conversation recounted by Rich Karlgaard, Mr. Gates said of success in business: "It's all about IQ. You win with IQ." Microsoft was famous for creating tests to try to measure the intelligence of job applicants.
But the Gates Foundation can't raise test scores in America, let alone Africa. It recently admitted its $575 million initiative to transform teacher evaluation, compensation, and employment practices, especially in low-income minority schools, was a complete failure. It may have even made things worse. How does Bill Gates expect to transform sub-Saharan Africans?
Recently, Mr. Gates said that "intelligence takes many different reforms"and is "not as important as I used to think". Perhaps he's trying to avoid the political landmines in wait for anyone who talks about intelligence.
Bill Gates is not alone among billionaires who amassed fortunes through ambition and intelligence but now seem determined to squander money in the name of egalitarianism. Mark Zuckerberg wasted $100 million dollars trying to improve the public schools of Newark, New Jersey. Mayor Ras Baraka, son of the anti-white and anti-Semitic poet Amiri Baraka, then accused philanthropists of "parachuting" into the city and not working with the locals. Mark Zuckerberg didn't even get credit for his virtue signaling.
Michael Bloomberg made his fortune by selling a specialized information service for securities traders. It was for high-IQ people who can't make excuses for failure. Yet Mr. Bloomberg recently donated $1.8 billion to his alma mater Johns Hopkins University to foster a more "socioeconomically diverse student body". No one criticized Mr. Bloomberg for wasting money on "diversity" rather than funding science or health research. He took heat because he didn't give the $1.8 billion to local community colleges.
The Western elite are not fools. Bill Gates, Mark Zuckerberg, and Michael Bloomberg are very intelligent and don't believe in "equality" when it comes to recruiting employees. Yet in philanthropy, they have forfeited their judgment to race-baiters and egalitarian propogandists. At best, they are wasting their money. More realistically, they are making the world worse.
In the face of a soaring African population, only clear thinking about race can forestall disaster. Sentimentality about the supposed potential of an African planet is dangerous foolishness. The West needs an elite that puts its resources behind excellence, rather than equality. Such an elite requires men not just with intellect, but courage. Are there such men? The future of our civilization – and the world – depends on the answer.
Mr. Hood is a staff writer for American Renaissance. He has been active in conservative groups in the US. The original article can be read at https://www.amren.com/commentary/2019/06/the-african-population-bomb/